Developed, manufactured, distributed and supported by
Electronic Art Display CC,
the
OilPro Oil Management System
is used mainly in vehicle and truck workshops to manage fluid dispensing from bulk tank to dispensing bay
(Other applications are available)
The Product delivers specified quantities of oil / fluid from bulk tanks to dispensing points, while keeping accurate records of all transactions. It is an effective
loss control system
, providing protection against unauthorized dispensing.
The system combines the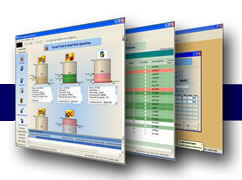 latest and most relevant technologies in Electronics and Information Technology, thereby addressing the dynamic challenges of the Information Age.
Installed in vehicle and truck service workshops all over South Africa and in Namibia, Botswana, Swaziland, Zambia, Tanzania, Ghana, Mozambique, the United Kingdom and Australia